Name-
Liam (He never realized he was a Nobody and no one ever changed his name; his nobody name is Lixam though)
Nickname-
None
Somebody Name-
Liam
Gender-
Male
Age-
32
Side-
Neutral
Home World-
Wonderland
Personality-
Liaam is not all there. He is very absentminded but not stupid. He has a laid-back view of the world, not once noticing his feelings were missing. He is quite friendly, but entirely insane. While he grasps the concept of good and evil, he never once cared to take part in choosing a side. He will make friends with those who are kind to him, not once letting whether or not they are good or evil stand in the way. He is quite intelligent, though most of the time he is too lost in his own world to appear to be. He is extremely hard to anger, though when he finally snaps he lives up to the reputation his homeworld has earned.
History-
Lixam has always been, different to say the least. Being born in Wonderland does that to a guy. After finding a talent and desire to make hats, his madness only increased from there. After losing the will to furnish hats for the inhabitants of his world, he began to travel. He found inspiration in Agrabah, and began to stay there. And it was there his heart was stolen. After that, though he never noticed the missing emotions, his passion for hat-making began to wane. He, at first, believed that his inspiration had left, and traveled to other worlds, but soon found that he didn't have the will to make more hats. He still insists he's only lost his inspiration and needs a muse to help, but he knows it is a lie. He is often found "relaxing" with the Caterpillar, when he isn't drinking tea with the March Hare or speaking with the Cheshire Cat.
Weapon-
A rapier concealed within his cane.
Appearance-
Liam is athletically built, but only lightly muscled. He has refined but not particularly delicate features. He has an angular jaw and a straight sharp nose. His right eyes is ice-blue while his left is milky-white and sightless. His lips are not particularly full, but rather chiseled. He has a stylized feather tattoo under his left eye. His hair is layered with loose diagonally cut bangs that are long on the right and short on the left. He has a long piece of bang that hangs to his collarbone on the left side On the right, his hair flips outward slightly. He does not have exceptionally broad shoulders, but he is proportionally built.
Liam typically wears a peacock green vest with golden buttons with an indigo cravat around his neck. He wears very light purple cufflinks with lace ruffles. His pants are tight black riding breeches and knee-high black riding boots. He wears a black top hat with a red satin ribbon and three black feathers adorning it. His coat is dark indigo, almost black and is about mid-thigh length. It has golden buttons and purple embroidered on the cuffs. He possesses a card-themed pipe that is usually seen hanging from the corner of his mouth.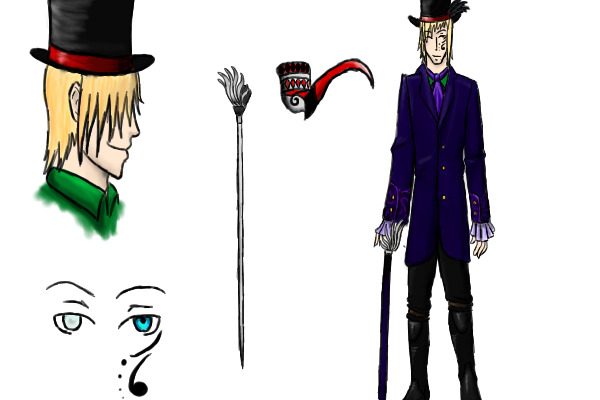 (People said I was insane for making a Mad Hatter Nobody. Sorry his history is so short. he's relatively new character for me and not as developed as Irixa or Yukixu)